Life.com
Director of Product Marketing and Development
1998 – 2001  – Calabasas Hills, CA
Life.com created an online community website and software for preserving and presenting your life story with text, photos, video and sound. Responsible for leading the content and
development teams to create the software and website.
Designed and created conceptual website plans and strategic business presentations for the Life.com website. The presentations were used for meetings with Venture capital companies including: Kleiner Perkins Caufield & Byers, CMGI and Kodak that resulted in 7 million in funding.
Selected and managed relationships with PR and Advertising agencies.
Responsible for the creation of concepts and development of the entire Life.com website.
Coordinated and managed the implementation of the software feature specification and GUI with an offsite engineering team.
Oversaw production and assisted with creative direction for all marketing collateral (packaging, print ads, banner ads and direct email campaigns.)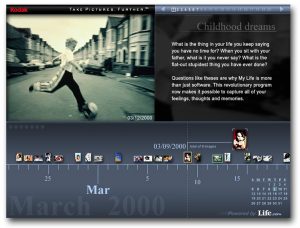 CLICK HERE to try the Timeline Demo – INSTRUCTIONS: click on the timeline and then drag UP or DOWN and LEFT or RIGHT to move the timeline.  Before the company closed we were going to have a timeline that a user could place or their thoughts, stories, photos, comments from friends and family and more to create a Life Timeline filled with content.
On the screenshots below, the Kodak logo is present since Kodak was going to buy Life.com but unfortunately the Dot Com crash halted the negotiations.